Products
We do not sell any hardware products, but rather we license products incorporating our designs and technology to manufacturers and assemblers of lighting and other green technologies. We provide complete plans, schematics and models, training, manufacturing and assembly methodology, technical support, and product testing for our licensees. We can also license some of our custom LED products/technology to manufactures and vendors to incorporate into their own products.
We also license customized versions of our literature and publications with your logos and model numbers. This allows manufacturers and distributors to offer their clients "branded" up-to-date research and information on induction lighting technology. Our publications can be a valuable asset for marketing, staff training and customer education.
NOTE: Our products and copyright materials are licensed on a per-territory or per-country basis, thus not all products or publications shown here may be available for licensing in your area.
Products & Product Licensing

LED Grow / Plant Light Technology
The world's first purpose designed LED COB Grow/Plant-light Lamps with a close match to the McCree curve (plant's light absorption curves), invented by Michael Roberts. LED Grow/Plant lights offer energy savings while providing 95% (or more light output useful to plant growing.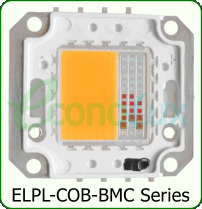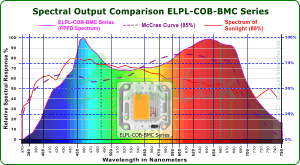 Close match to the McCree curve (90 to 95%) than almost all other plant/grow (agricultural) light types;
Real Full spectrum light output covering the 380nm to 750nm range, with maximum light output concentrated across the full spectrum with 90% to 95+% match to the McCree curve;
33% to 45% energy savings when replacing other plant-light types - more light that plants can use, with less electrical energy consumed;
Significant maintenance and replacement lamp cost savings due to the long lifespan of the LED COBs (50,000+ hours);
Low "heat signature" allows close placement to the plant canopy for
"Green Technology" product helps mitigate global warming by reducing CO2 emissions from power generation.
The proprietary and trade-secret LED Grow/Plant-light COBs have been licensed to EconoLux Industries Ltd., for production. You can visit the EconoLux Website for more information and ordering.
Publications and Intellectual Property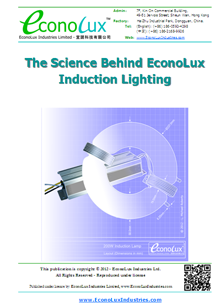 Personalized Publications
InduLux Technologies has a large library of Induction Lighting information, papers, case studies, charts, graphs and graphics. These can be licensed and customized with your logo, web site, and contact information for use in your promotional and sales programs, customer and staff education.
Here is an example of a personalised version of our "The Science Behind Magnetic Induction Lighting " publication customized for EconoLux Industries.

The Science Behind EconoLux Induction Lighting
(Click link to read on-line; Right click and choose "Save Link As" to download a copy)
For examples of some of our other publications available for licensing and customization, visit our Library.
People using our Personalized Publications or Derivative Works
(Use of our material does NOT constitute an endorsement of the user, or any products they may offer.)

Ecoglow Energy Efficient Lighting
https://www.ecoglow.com.au/induction-lighting-guide/
Eco Lighting Solutions
http://www.ecolighting.ca/induction-lighting/
EconoLux Industries Limited
Home Page: http://www.econoluxindustries.com
Futek Egyptian Micro Electronics
http://www.scribd.com/doc/27507952/Induction-Lighting
Luminos Lighting Limited
http://www.lllwww.co.uk/about_induction.html
Access Fixtures
https://www.accessfixtures.com/induction_lighting/
American Green Technology
http://www.americangreentechnology.com/
DAS Lighting
http://daslighting.com/images/pdfs/training/merc_utiliz.pdf
Organica
http://www.organicagardensupply.com/new-products/induction-grow-lights/
InduLux Technologies
Blyth, Ontario, Canada
HOME | LIBRARY | SERVICES | PRODUCTS | ABOUT US | CONTACT US

© 2008~2019 InduLux Technologies and www.induluxtech.com - All rights reserved.
Logos and trademarks are the property of their respective owners - used by permission.